Archive for the 'UK SHOWS: Luther' Category
Fans of the BBC drama Luther were beginning to wonder if the show was in fact coming back for a third season, but as of today, they can worry no more. The show officially announced that it's back with a video you can check out below.
Creator Neil Cross has also expressed interest in a feature film version of the show, along with a possible spin-off miniseries following Alice. Both sound intriguing, but if a third season is happening, they may be put on hold for a while.
I loved Luther initially, though I felt it struggled a bit in season two and became more generic than it should. That said, Idris Elba is fantastic in the role, and I can't wait to see what they have in store for season three now that it's official.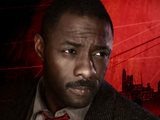 Idris Elba has promised a "high-octane" third series of Luther.
Luther creator Neil Cross recently revealed that he is planning to produce a film adaptation of the BBC crime drama, once the TV version has ended.
"We're going back to a four-episode format [for series three], high-octane Luther stuff," Elba confirmed to Vulture. "We're going to close out a couple of storylines."
The actor confirmed that he and Cross are "really preparing for the big screen", calling a Luther movie a "very strong goal".
"It's not in stone yet, but it's something we definitely want to aim towards," he said.
Elba added that much of the show's success is down to its "ridiculous" quality and the "American-esque" nature of his character John Luther.
"Luther – he's way bigger [in his reactions] than an English cop would ever be," he said. "I think part of the TV show's popularity in England is that it's sort of ridiculous to see an Englishman that big in a lot of these scenes. But it actually works because of how grandiose some of the crimes are."